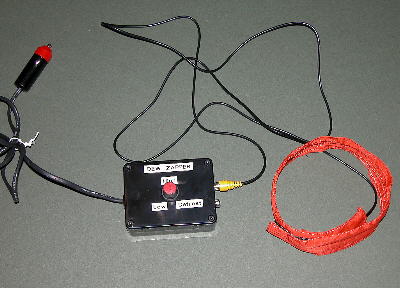 Finshed system: cigar lighter connector, control box and heater band. Note there are two outlets on the control unit - one not in use.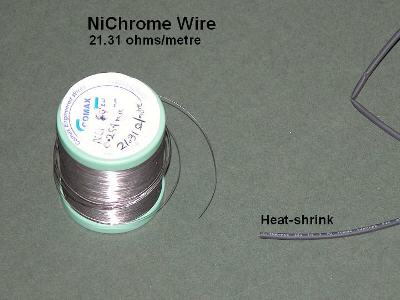 Roll of nichrome wire and heat-shrink.
Background
The invention of electric Dew Heater bands using wire seems to have been the brainchild of Canadian Mark Kaye. These were later to be made commercially by Jim Kendrick and the rest, as they say, is history. Mark Kaye published details of how to make them yourself but his webpage no longer appears to be available.
The principle is to use nichrome heater wire running around the telescope, lens, finder or eyepiece to provide gentle heat so as to prevent the formation of dew. Forget using multtiple resistors - they are crude point sources of heat and require many soldered connections. Nichrome is the way the professionals do it and it is the easiest and best for amateurs too.
The heat, providing it is not excessive, does not spoil the seeing – it just raises the temperature above the dew-point. The nichrome heating element(s) is sewn into a band, which is held in place by velcro. The electrical power is provided by a 12 volt battery and the power is varied by means of a pulse- width modulation unit. These are used to control model trains and are relatively cheap. Experience would appear to indicate around 20 watts of power is ample for a typical Schmidt-Cassegrain telescope – less power for finders and eyepieces.