Probably the most important factor in getting the best out of our camera is maximizing the "signal-to-noise" ratio, SNR. It is frequently thought, particularly by those new to CCDs, that because they are more sensitive than film then only short exposures are needed. However, whilst it is true that an exposure of just a few seconds will produce some results and reveal the target object, there is a world of difference between such an image and one that has maximized the SNR. The former will be heavily speckled and gritty, the latter smooth and with a wealth of subtle detail. The reason is of course that all important signal-to-noise ratio.
The signal part of SNR is the easiest to understand and is simply the number of photons recorded by the photosite or pixel. Noise is not quite as easy to grasp. Here something called "uncertainty" rears its head. Detecting photons has an inevitable randomness – repeating the identical observation will not produce exactly the same numbers. This unpredictability, which can never be totally removed from a signal, is called noise. Note this subtle definition. An unwanted signal that can be removed is not noise. Dark current is therefore not noise but the random element embedded in it is! This is a common misconception, which you will often see repeated. Now the good news. If we increase the signal, by whatever means such as a longer single exposure or multiple exposures, then the signal increases faster than the noise. We can fight back.
You don't have to understand the maths involved, just the consequences of each source of noise. So here is the simplified equation for SNR: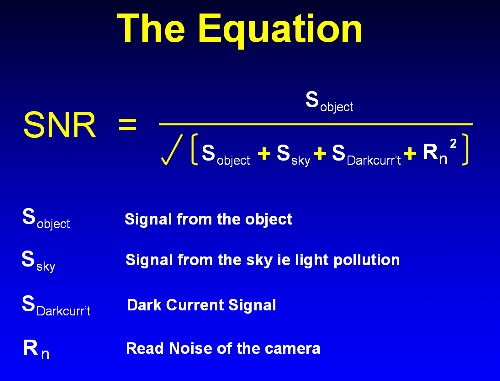 This assumes we have properly pre-processed our images ie we have calibrated them using multiple darks, biases and flat-fields. Now, we can improve the SNR by increasing the nominator (top line) and/or by decreasing the terms in the denominator (bottom line). So we can make some geralisations:
1. Increase Sobject: More signal required so shoot for longer and/or more sub-exposures. Or buy a bigger telescope. Or a camera with bigger pixels. Binning is an alternative to actually having a camera with bigger pixels.
2. Reduce Ssky: Dark skies are obviously best so if you are sub-urban located either travel to a dark site or use light pollution filters or go narrowband.
3. Reduce Sdarkcurrent: Cool the camera or shoot on cold nights. A fan can help cool DSLR cameras.
4. Reduce Rn: Choose a camera with low read noise. This one of the reasons Canon DSLRs are so good. Shooting longer-sub exposures reduces the effect of Rn.
The most common question I get asked is how long should sub-exposures be. Putting real numbers in the above equation for your telescope, location and camera will give an answer but do you use the numbers for the bright part of the object or the faintest? However, we can make some simplifications. The sub-exposures need to be long enough to render the Rn term (remember it is squared) insignificant compared to the signal. For my set-up that equates to 10 minutes sub-exposures with a light-pollution filter and 20 minutes if narrowband. Longer would be better but 20 mins is a fairly practical limit.
Note on pixel size and binning: Binning 2x2 increases the SNR per pixel (new bigger pixel compared to original size) by approximately 2 times (see this link). In addition the bigger pixel has a single read noise component whereas the individual pixels would have had one each. So full resolution comes at a price, therefore always maximise pixel size commensurate with your site resolution.
Don't worry if the maths are troublesome - just shoot plenty of long exposures!