The Palomar Globular Clusters
David Ratledge
Introduction
The Milky Way galaxy has, at the last count, 158 globular clusters. They are some of the oldest objects in the galaxy – most being as old as the Milky Way itself. They range from giants with millions of stars like Omega Centauri down to obscure and sparse clusters. They are most common around the galactic centre – in fact they were key to determining where the centre of the Milky Way lay.
Some of the faintest of these clusters are the so-called Palomar Globular Clusters, which were discovered in the 1950s on the survey plates of the first Palomar Observatory Sky Survey (see reference). These 15 globulars are testing targets for astro-imagers. Don't expect spectacular images though – just recording them is an achievement!
The Palomar Clusters were discovered by some of the most famous astronomers of our time including Edwin Hubble, Walter Baade, Fritz Zwicky, Halton Arp and George Abell. They were catalogued by George Abell but naming them Palomar should probably be credited to Helen Sawyer Hogg. The initial list included just 13 clusters with Pal 14 and Pal 15 added later.
The reason for their relatively late discovery is that they are very faint due to being either heavily obscured, extremely remote or having few remaining stars. It took the giant 48-inch Schmidt camera at Palomar to discover them.
Reference
The catalogue data reproduced here has been extracted from CATALOG OF PARAMETERS FOR MILKY WAY GLOBULAR CLUSTERS: THE DATABASE - compiled by William E. Harris, McMaster University.
Name

RA

DEC

Constellation

Size (arcmin)

Magnitude

Distance from

the Sun (kly)

Distance from

Galactic Centre (kly)

Pal 1

03h 33m 23.0s

+79d:34m:50s

Cepheus

2.8

13.18

35.6

55.4

Pal 2

04h:46m:05.9s

+31d:22m:51s

Auriga

2.2

13.04

90.0

115.5

Pal 3

10h:05m:31.4s

+00d:04m:17s

Sextans

1.6

14.26

302.3

312.8

Pal 4

11h:29m:16.8s

+28d:58m:25s

Ursa Major

1.3

14.20

356.2

364.6

Pal 5

15h:16m:05.3s

-00d:06m:41s

Serpens

8.0

11.75

75.7

60.7

Pal 6

17h:43m:42.2s

-26d:13m:21s

Ophiuchus

1.2

11.55

19.2

7.2

Pal 7 (IC1276)

18h:10m:44.2s

-07d:12m:27s

Serpens

8.0

10.34

17.6

12.1

Pal 8

18h:41m:29.9s

-19d:49m:33s

Sagittarius

5.2

11.02

42.1

18.3

Pal 9 (NGC6717)

18h:55m:06.2s

-22d:42m:03s

Sagittarius

5.4

9.28

23.1

7.8

Pal 10

19h:18m:02.1s

+18d:34m:18s

Sagitta

4.0

13.22

19.2

20.9

Pal 11

19h:45m:14.4s

-08d:00m:26s

Aquilla

10.0

9.80

42.4

25.8

Pal 12

21h:46m:38.8s

-21d:15m:03s

Capricornus

2.9

11.99

62.3

51.9

Pal 13

23h:06m:44.4s

+12d:46m:19s

Pegasus

0.7

13.80

84.1

87.0

Pal 14

16h:11m:04.9s

+14d:57m:29s

Hercules

2.2

14.74

241.0

225.0

Pal 15

17h:00m:02.4s

-00d:32m:31s

Ophiuchus

3.0

14.00

145.5

123.6
Over the years I have imaged several of them and below are my selected highlights:
Pal 1
Discovered in 1954 by George Abell.
It belongs to the class of loose globular clusters of the halo system. Although not as remote as many of the other halo clusters it is a pretty insignificant object.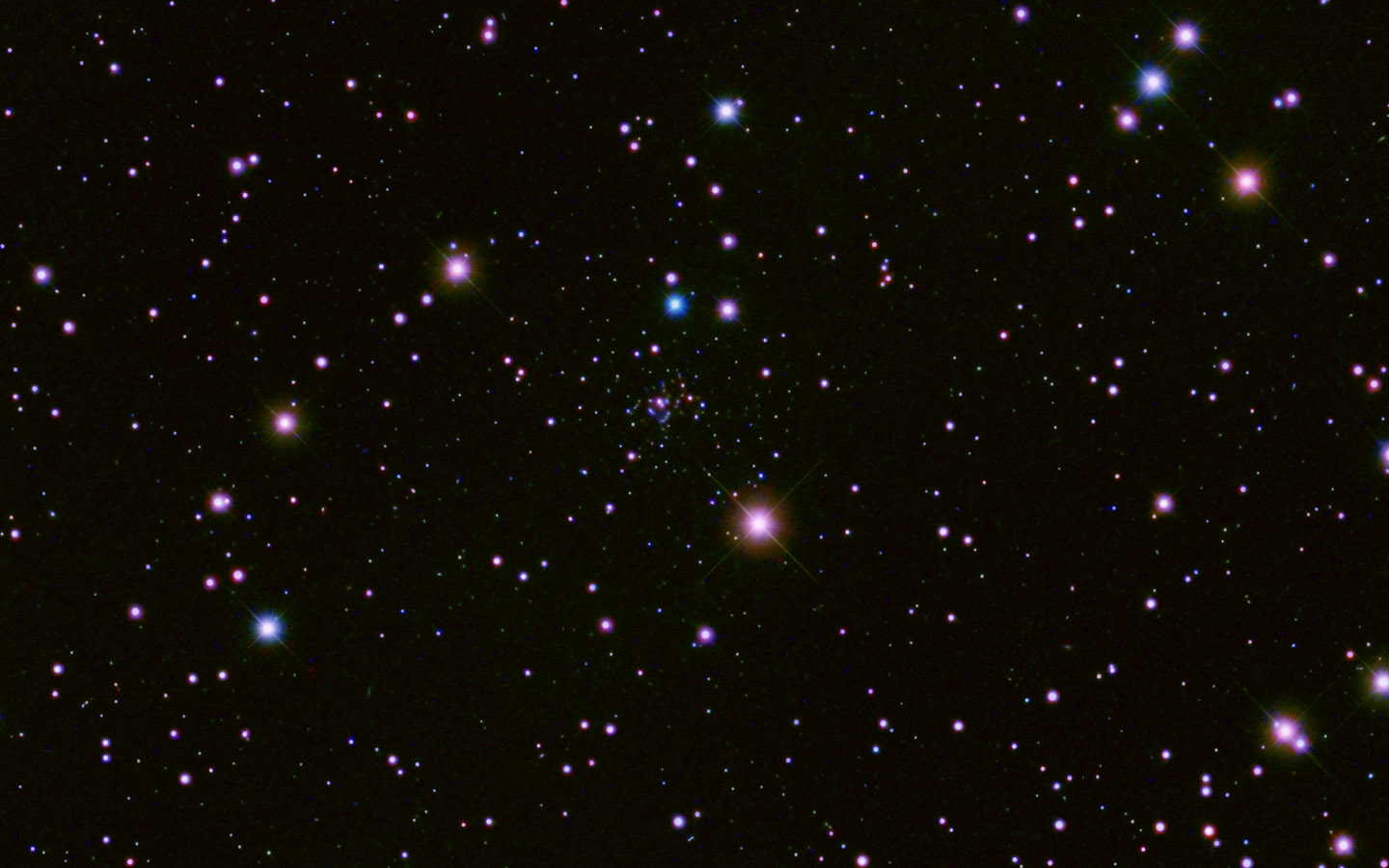 Until relatively recently it was uncertain as to whether it was a very old open cluster or a very young globular. This appears to have been finally settled by Rosenberg when it was confirmed that it was indeed a globular. The clusters properties and location in the outer halo, about 55,000 light-years from the Galaxy's centre, contradict the possibility of a very old open cluster. However, Pal 1 is unusually young (c. 8 billion years) and could therefore have had a different formation process. Whilst most globulars are thought to have formed very early in the Milky Way's history the younger ones, on the other hand, may have formed in three other ways: as gas clouds that survived in the halo after the Milky Way's formation, later to form stars; as captured intergalactic star groups; or as cannibalised dwarf galaxies.
Visual: Very very difficult - probably requiring a monster 24-inch Dobsonian at Kelling Heath!
Pal 2
Discovered by A.G. Wilson in 1955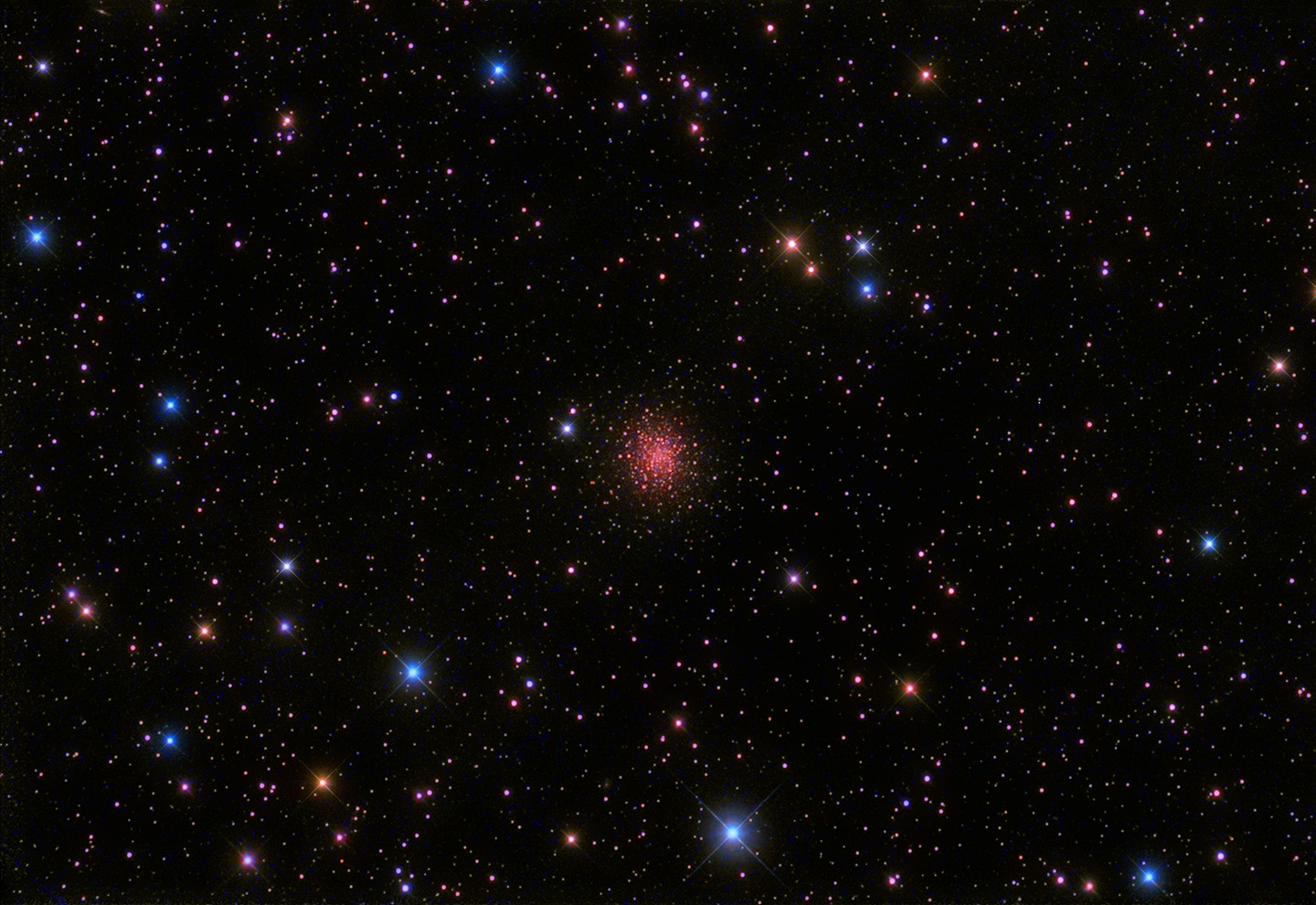 According to Harris et al (1998), Pal 2 is a distant and heavily obscured globular cluster near the Galactic anti-centre (it is in Auriga of all places). To be recognisable (in my image) as a globular cluster under such circumstances means that this cluster must be brighter and more massive than most other clusters in the outer halo. This is precisely what Harris et al determined adding that it probably had a very eccentric orbit and it was likely that it was currently near its furthest point from the centre of the Milky Way (perigalacticon). Its red colour is due to that heavy obscuration mentioned above.
Visual: Don't even think about it with less than a 18-inch telescope.
Pal 3
Discovered by Baade and Wilson.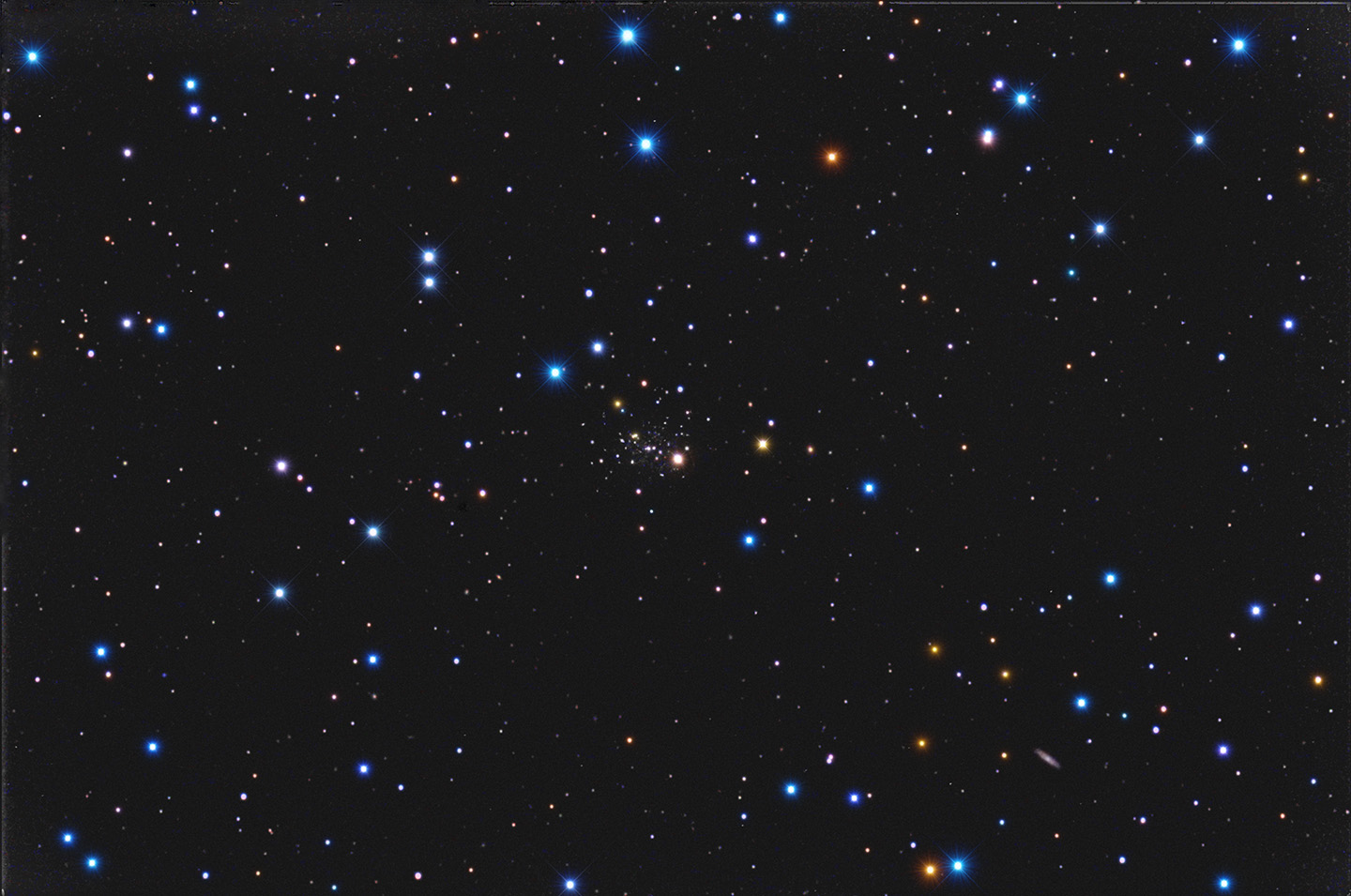 One of the most remote clusters known (third most distant) - approximately twice as far away as our satellite galaxies, the Magellanic Clouds! According to Gratton it is so remote it has probably never passed yet through the galactic disk - thus being a true outer halo cluster. It is not surprising therefore that its appearance is somewhat indistinct. For the current theory on how such remote clusters came to be out there see Pal4 below.
Visual: that monster 24-inch at Kelling Heath required again.
My image of Pal3 was selected for use in the Italian online magazine Universo Magico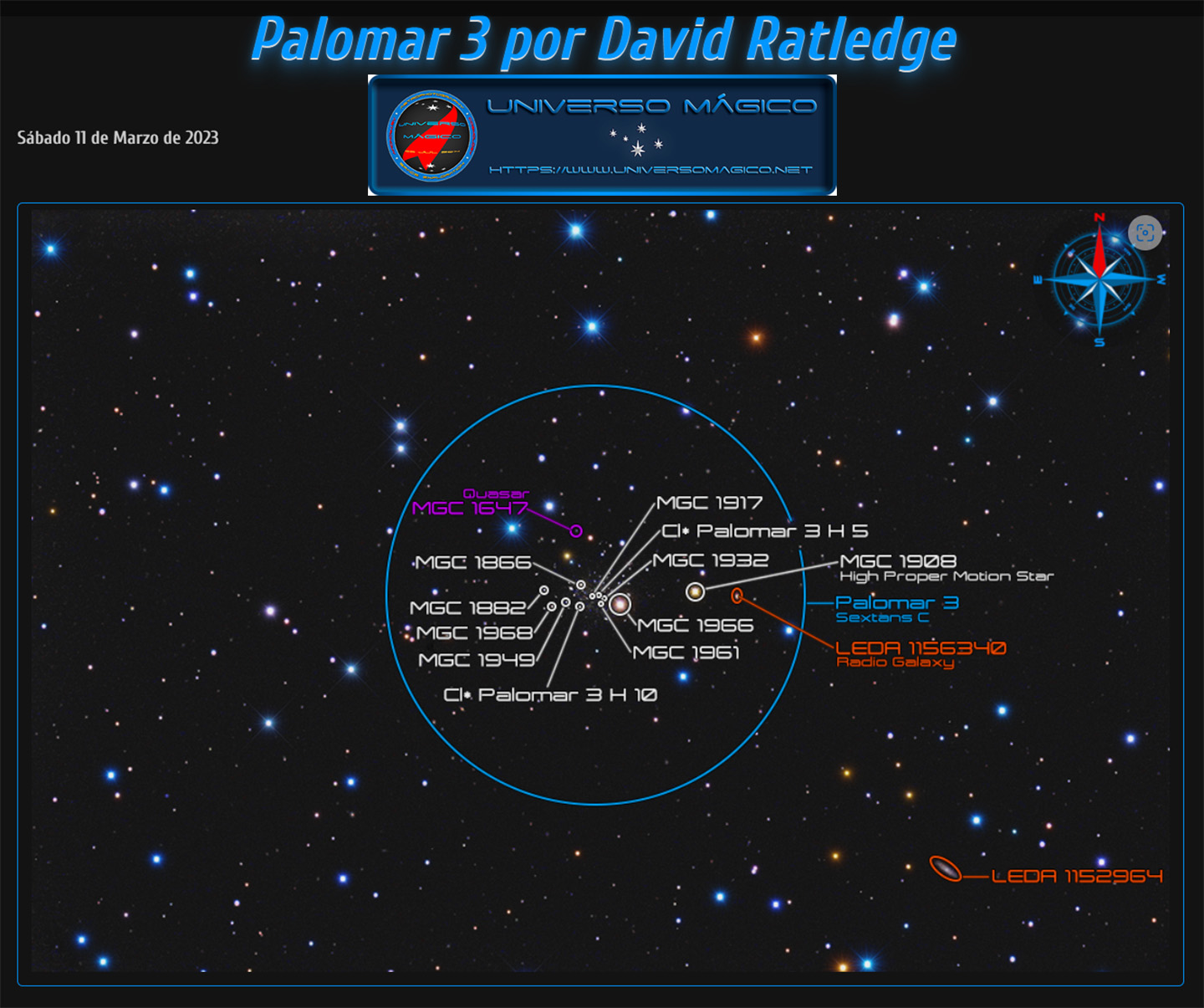 Pal 4
Discovered by Hubble in 1949 and independently again by AG Wilson in 1950.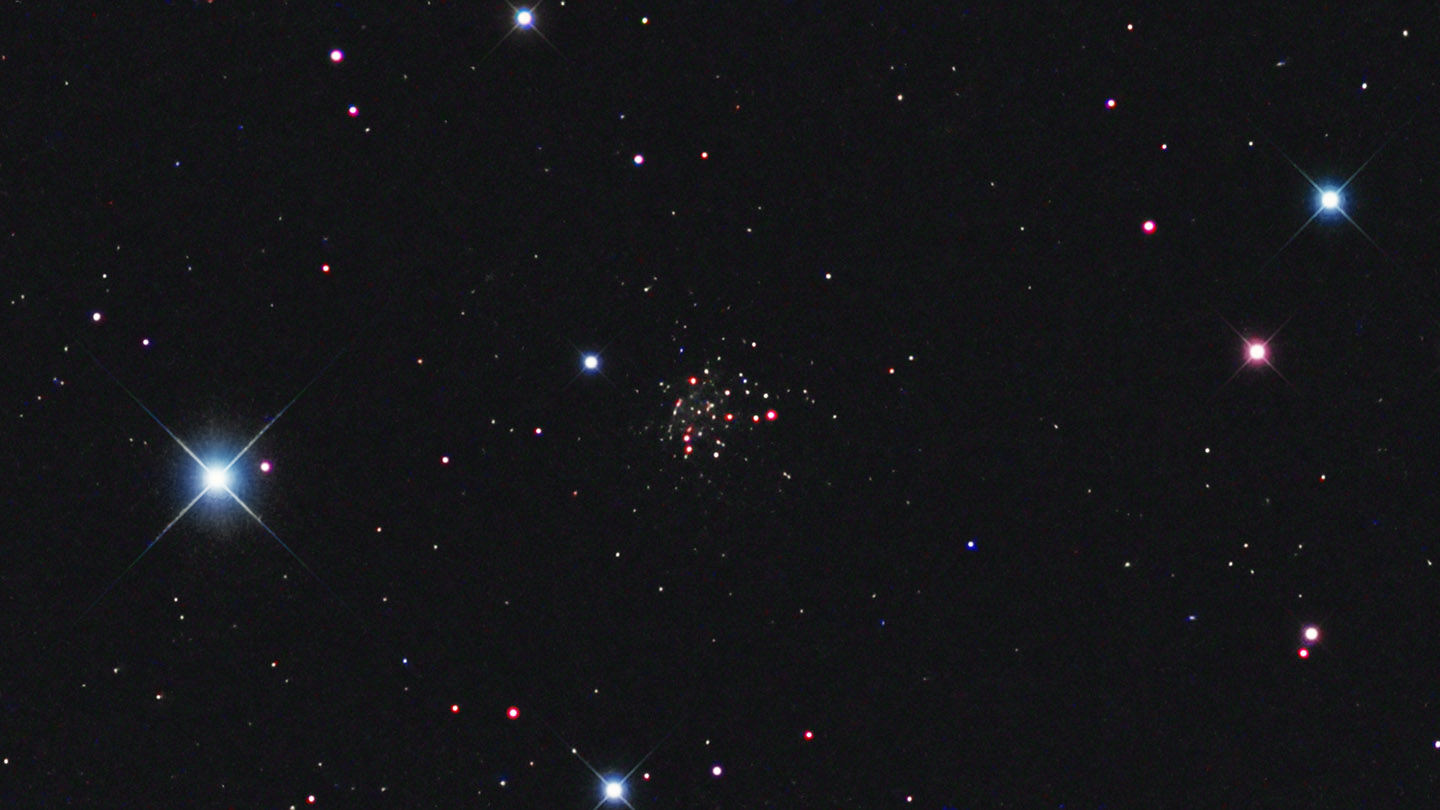 The second most distant globular cluster known (AM1 is the most distant known). The fact that it looks like a globular cluster given its huge distance from the Milky Way gives a clue as to why, when it was first discovered (before the Palomar sky survey), it was catalogued as the Ursa Major Dwarf Galaxy.
Current evolution theory (van den Bergh and A. D. Mackey - 2004) suggest remote globulars such as Pal 3 and Pal 4 were once all associated with dwarf spheroidal-like galaxy fragments that have since disintegrated and been absorbed by the Milky Way. The evidence for this is that these clusters are metal-rich objects and being located in the outer Galactic halo this can most logically be explained if they formed in, or in association with, dwarf spheroidal galaxies.
Visual: that monster 24-inch yet again!

Pal 10
Discovered 1955 by AG Wilson.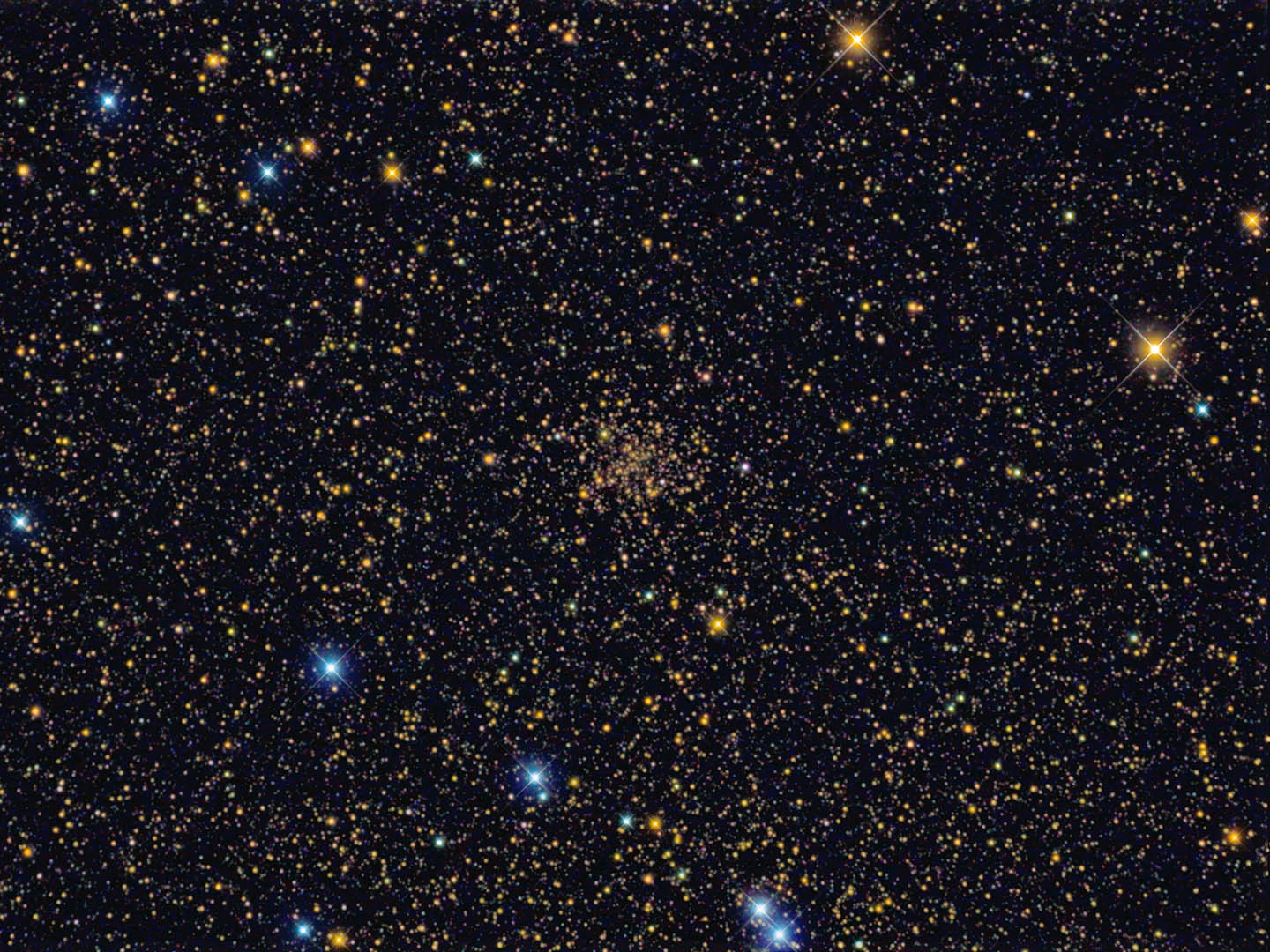 Embedded in the Milky Way this cluster is heavily obscured and reddened and yet it is recognisably a globular cluster which is rarely the case for the Palomar objects.
Located just over 2 degrees SW of the Coathanger asterism and is probably the easiest to image.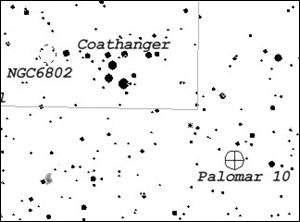 Visual: Even though it looks like a globular cluster, at least in images, it is very difficult to see and a 18-inch Dobsonian is still probably required.

Pal 13
Discovered by AG Wilson in 1955 and named by him the Pegasus Globular Cluster despite Pegasus already having the prominent globular M15 within its boundaries. That's professional astronomers for you!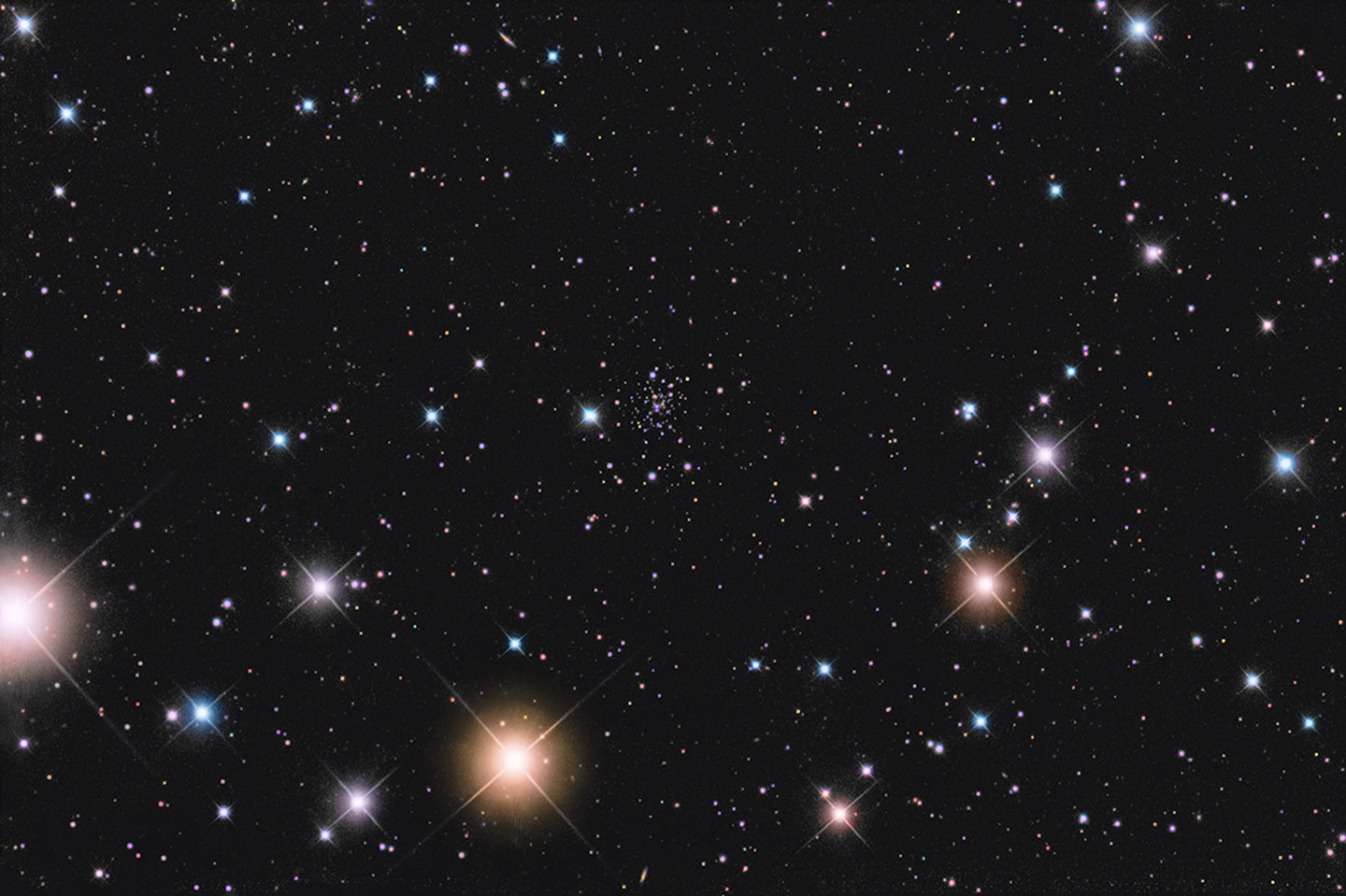 Pal13 is one of the smallest and faintest globular clusters known. This is a consequence of its eccentric orbit which brings it close to the galactic centre every 1 to 2 billion years. With each dive through the galaxy, gravitational tidal forces strip away the member stars. In fact, detailed present day studies offer evidence for a dramatic end to this dwindling cluster's tidal tug of war. Palomar 13's latest close approach was only about 70 million years ago and its next could well turn out to be its last.
Visual: Forget it!