Observing Arp's
Altas of Peculiar Galaxies
---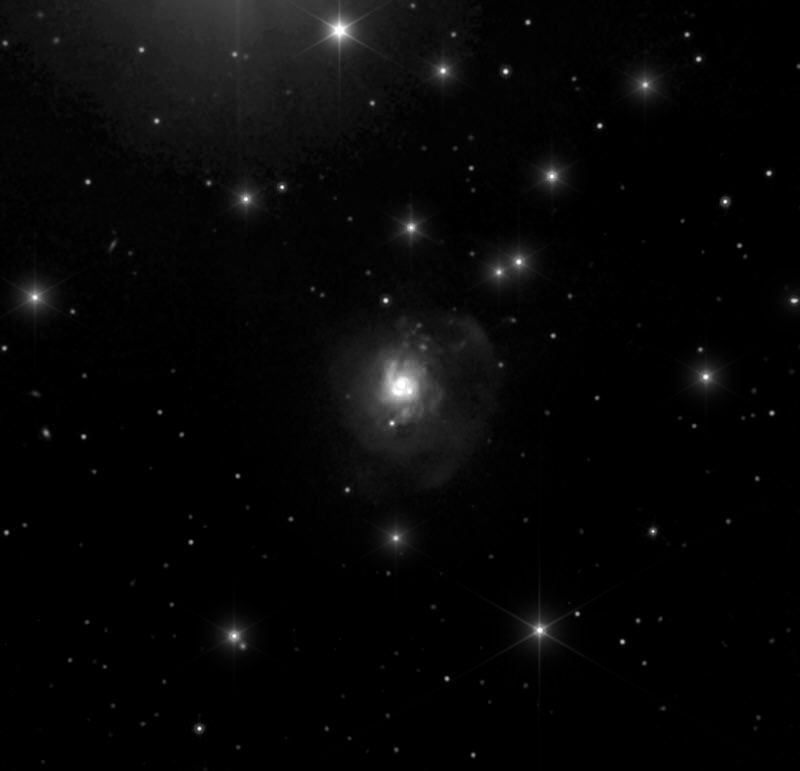 Arp 217
Dr. Halton Arp published his Atlas of Peculiar Galaxies in 1966. It was mainly compiled from images taken with the Palomar 200-inch telescope. Despite that, with modern CCD cameras, they are all within reach of back-yard observers. No only that they are some the most famous objects in the sky. Since then Arp has fallen from favour with his controversial views on quasars and redshifts, now almost universally discredited. However this should not overshadow his other work and we owe him a debt of gratitude for his Atlas of Peculiar Galaxies.
The List of all 338 Objects/Groups - the definitive list derived from the ADC data (PDF format).
Because of the number of objects I have had to split the finder charts below into 4 sections.
Chart 1 of the Atlas RA 0 hours to 6 hours.
Chart 2 of the Atlas RA 6 hours to 12 hours.
Chart 3 of the Atlas RA 12 hours to 18 hours.
Chart 4 of the Atlas RA 18 hours to 24 hours.
Images I have taken of the Arp Galaxies - telescopes from 8-inches to 16-inches.
Arp 1 - NGC 2857, Arp's Spiral. Probably the most normal looking object in the Catalogue!
Arp 6 - NGC 2537 & 2537A, The Bear's Paw Galaxy
Arp 9 - NGC 2523
Arp 12 - NGC 2608
Arp 17 - UGC 3972
Arp 25 - NGC 2276
Arp 26 - Messier 101
Arp 28 - NGC 7678
Arp 29 - NGC 6946
Arp 37 - Messier 77
Arp 78 - NGC 772
Arp 81 - NGC 6621/2
Arp 84 - NGC 5395
Arp 85 - Messier 51
Arp 86 - NGC 7753
Arp 94 - NGC 3226/7
Arp 99 - NGC 7549/7550
Arp 104 - Keenan's System. NEW
Arp 105 - NGC 3561
Arp 113 - NGC 70
Arp 114 - NGC 2300
Arp 116 - Messier 60
Arp 117 - IC 983
Arp 120 - NGC 4438
Arp 135 - NGC 1023
Arp 150 - NGC 7609
Arp 157 - NGC 520
Arp 169 - NGC 7236/7
Arp 170 - NGC 7578A&B
Arp 184 - NGC 1961
Arp 199 - NGC 5544/5
Arp 205 - NGC 3448
Arp 210 - NGC 1569
Arp 212 - NGC 7625
Arp 213 - IC356
Arp 214 - NGC 3718
Arp 217 - NGC 3310
Arp 242 - NGC 4676A/B, The Mice
Arp 244 - NGC 4038/9, The Antennae
Arp 250 - IRAS F07327+3529
Arp 263 - NGC 3239
Arp 269 - NGC 4485/90
Arp 270 - NGC 3396
Arp 271 - NGC 5426/7
Arp 278 - NGC 7253
Arp 281 - NGC 4631
Arp 285 - NGC 2854 and 2856
Arp 286 - NGC 5566
Arp 307 - NGC 2872/3/4
Arp 313 - NGC 3994/5
Arp 316 - NGC 3193
Arp 317 - NGC 3628
Arp 319 - NGC 7317-20, Stephan's Quintet
Arp 320 - NGC 3753, Hickson 57
Arp 321 - Hickson 40
Arp 322 - Hickson 56
Arp 337 - Messier 82